So when I was at Rock Con I picked up some awesome stuff in the silent auction and from the vendors. These are the resin vehicles I got, I decided to finally pull them out of their bags and wash them so I can get to work on putting them together and painting them.
I got an original Forgeworld resin drop pod in the silent auction. Its smaller than the new plastic ones and has 5 marines in harnesses inside. I found the old rules for it the other day and noted how it could only hold 5 marines. Well, I am going to use it as a regular drop pod once I get it together, hell it IS an official model after all!
So I also picked up 5 Ramshackle games vehicles. The Armored Toad and regular Toad were display models, so they were already assembled and only 8 bucks each.
I also got a Badger a Death Rod and a Quad. All of these were on sale for 20% off I think it was. They were too good of a deal to pass up.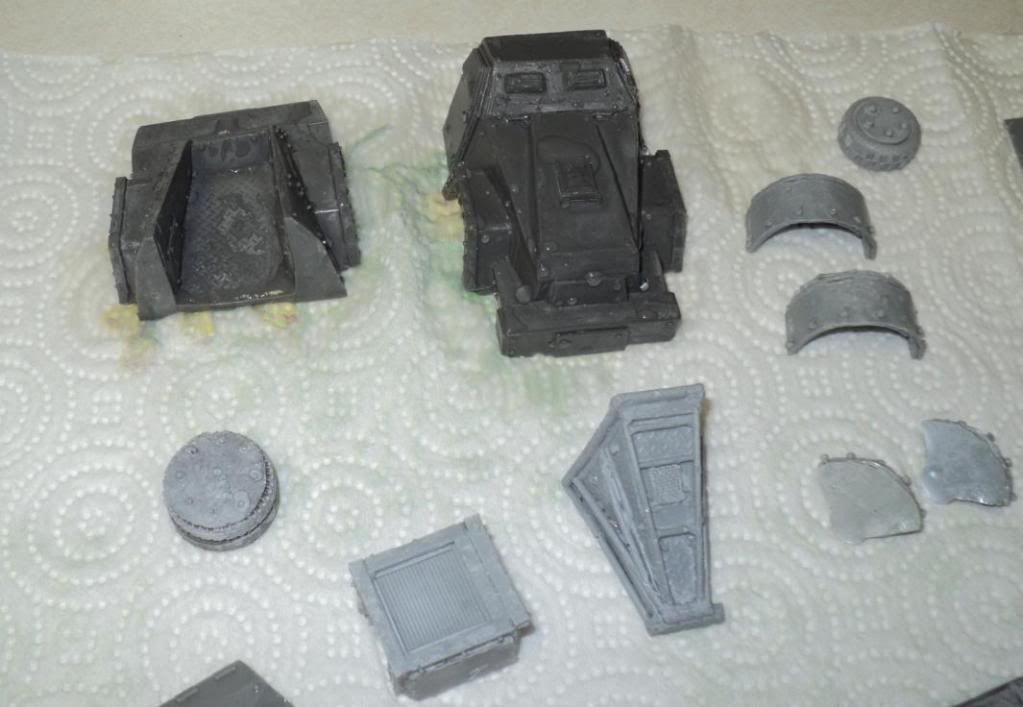 Here is a final shot with everything laid out:
Now you may be wondering why I have all of the Ramshackle Games stuff. Which by the way here is the link to their site:
Ramshackle Games
Well I got these vehicles because I plan on assembling them and magnetizing different 40k weapons to them and using them in games of Book of the Arbitrator. I can wait to get them painted up! I hope to have at least a couple of them done by December 3rd, which is when I will play through the final two scenarios I posted up here a while ago.
I will keep updating with my progress.
Laters.